I've been quiet for a few months finishing up my Christian SciFi novel. But now Star Song is out. It was  a fun project and received three 5-star ratings from Readers' Favorite.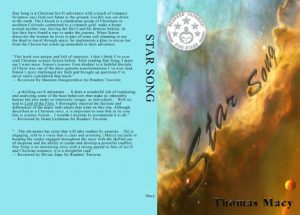 While Science Fiction ranks 5th out of all genres, its absence from the Christian book market is conspicuous. And, according to online book marketing sites, those authors that do write in this market often have their works labeled fantasy rather than Science Fiction. Star Song and its sequels will be based on real science when science comes into play.
Star Song was the result of the intersection of two lines of thought. 1) If God imprisoned Satan on Earth, how would that affect Christians settling another planet? And 2) reading a couple of interesting articles on the theory of Relativity, I pondered how I could present the concept of relativity and time dilation in a fun yet educational way? Thus Star Song!
Still to come. Singing stars, flexibility of time, new worlds, dangers of space travel, and much more.
Available at Amazon, Barnes & Noble, Smashwords, and elsewhere online!!